Can June be the ultimate month in the wild?
Sun follows rain, follows sun, follows rain.
On clear days it's light shortly after 4am. The sun rises around 5.00, and stays high until 10 at night.
The sky is still light after 11.00 as the photons bounce off the moon which in turn reflect from the sea lighting the far west with its most special light.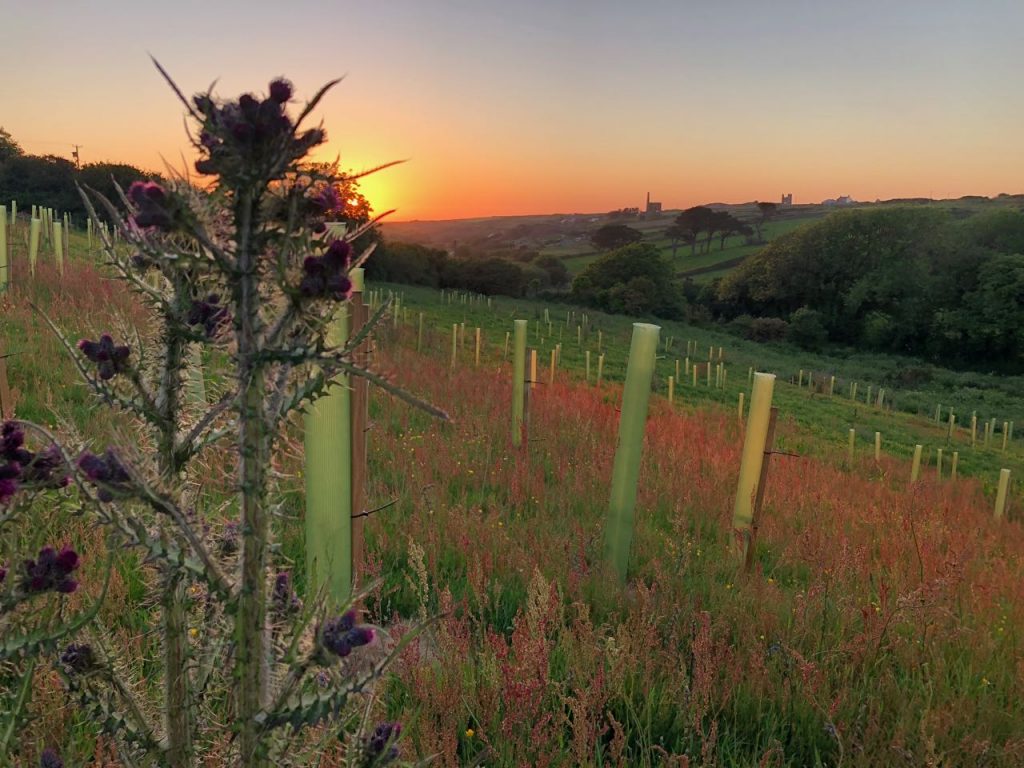 Warm and wet. Growing weather.
The hedgerows are in full riot while the cash strapped council can't afford to rein in the excess. Unchecked the foxglove, furze, cow parsley, campion, nettles and head high grasses reach up, and up.
In the fields the last of the bluebells give way to a mirage of buttercup, a red haze of sorrel.
Young trees poke their heads above their protective tubes for the umpteenth time, and this time there's no harsh salt gale to blacken their tops. This time there's a hope that they'll survive.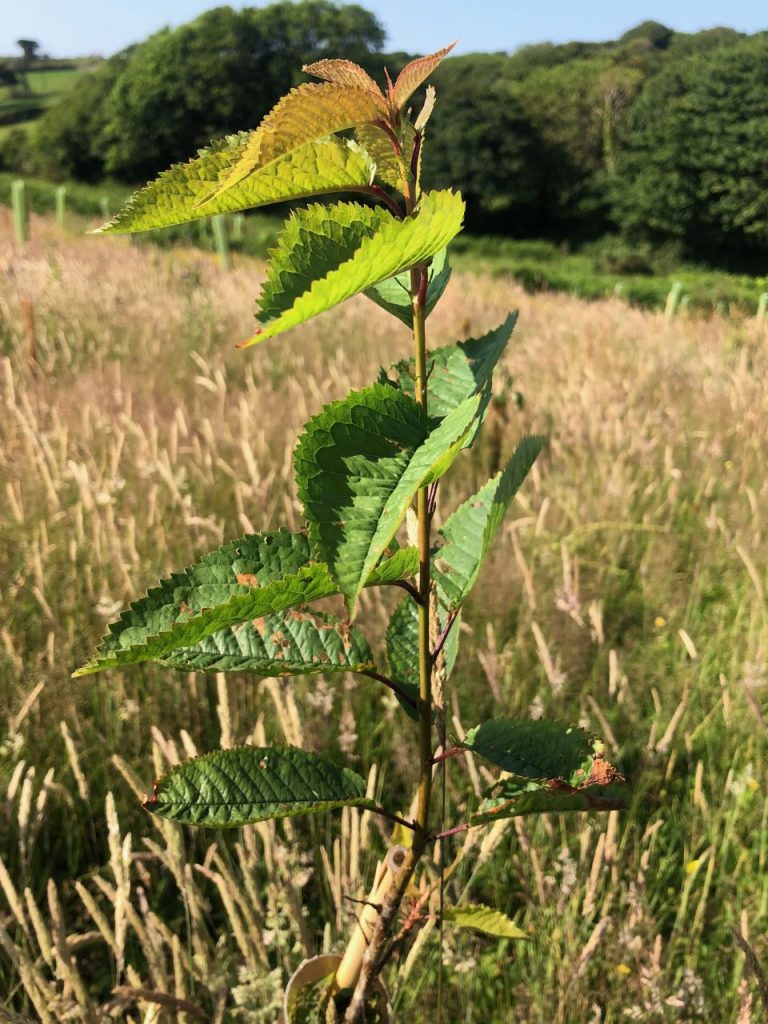 Down in The Flood marram and willow surge amongst a rash of creeping thistle and monster docks. There's not a hint of the several hundred teasel seeds I planted, but bramble and bracken threaten to suffocate the cuttings that previously thrived.
Knotweed laughs as it strengthens its grip.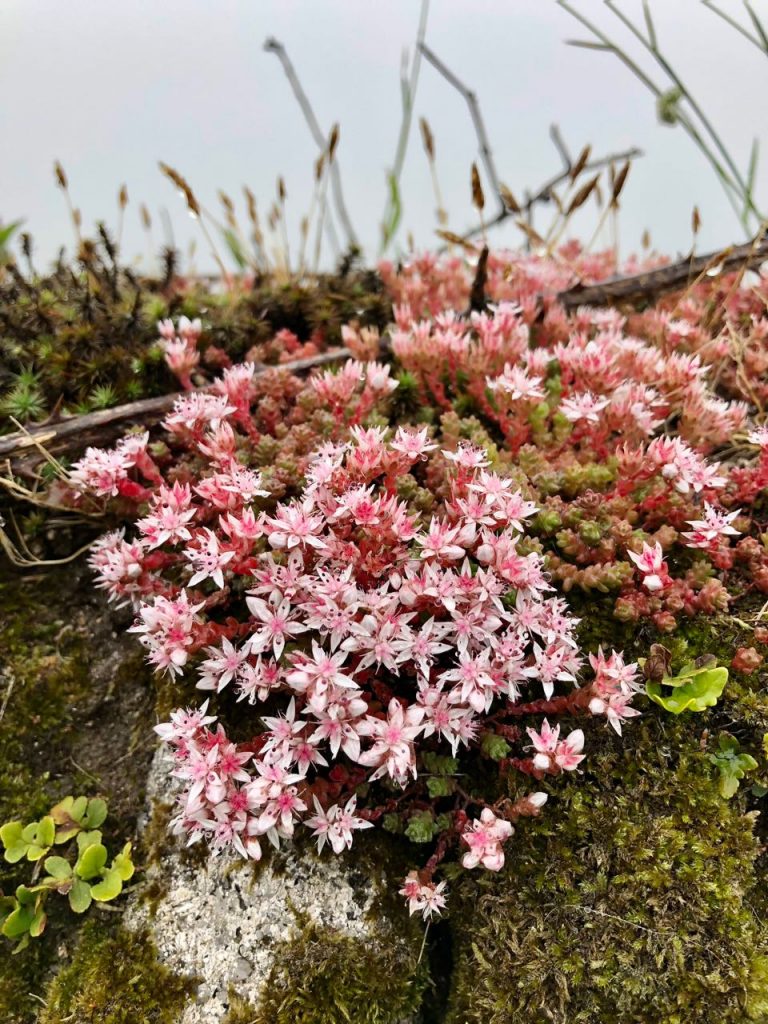 Of time and the fields.
Through the first months of the year the fields took every minute there was to spare.
Cutting the shape for a future pond (and discovering a sewer pipe running through the intended pool, rethink required).
Planting trees. Planting more trees. Then planting some more.
The drought of April. The evening exercise of taking water to the saplings.
The deluge of May. The hint of the growth explosion that waited around the corner.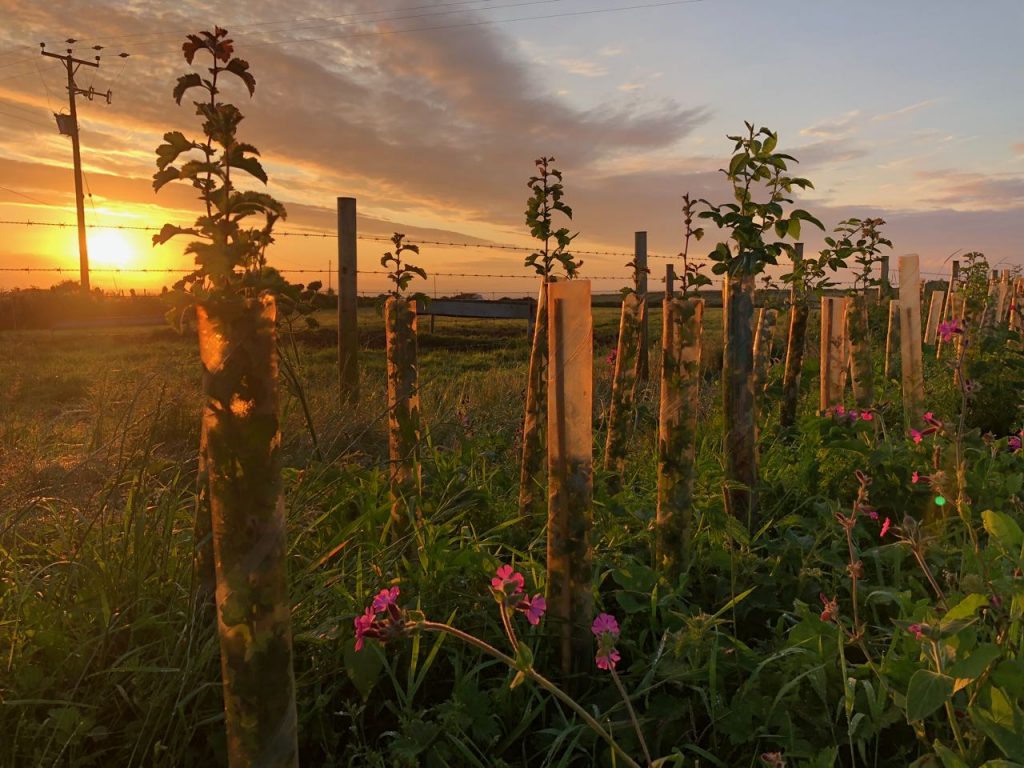 That deluge triggered the June germination of areas we'd sown with wild seed. A thousand white poppies (five red) displayed their paper thin beauty for a few days before leaving nodding heads as a reminder of their brief glory. Campion followed through late June, cornflower brought a contrast of blues. And those lupins, those tiny seedlings of lupins, will they ever grow into a carpet as they do in Sweden?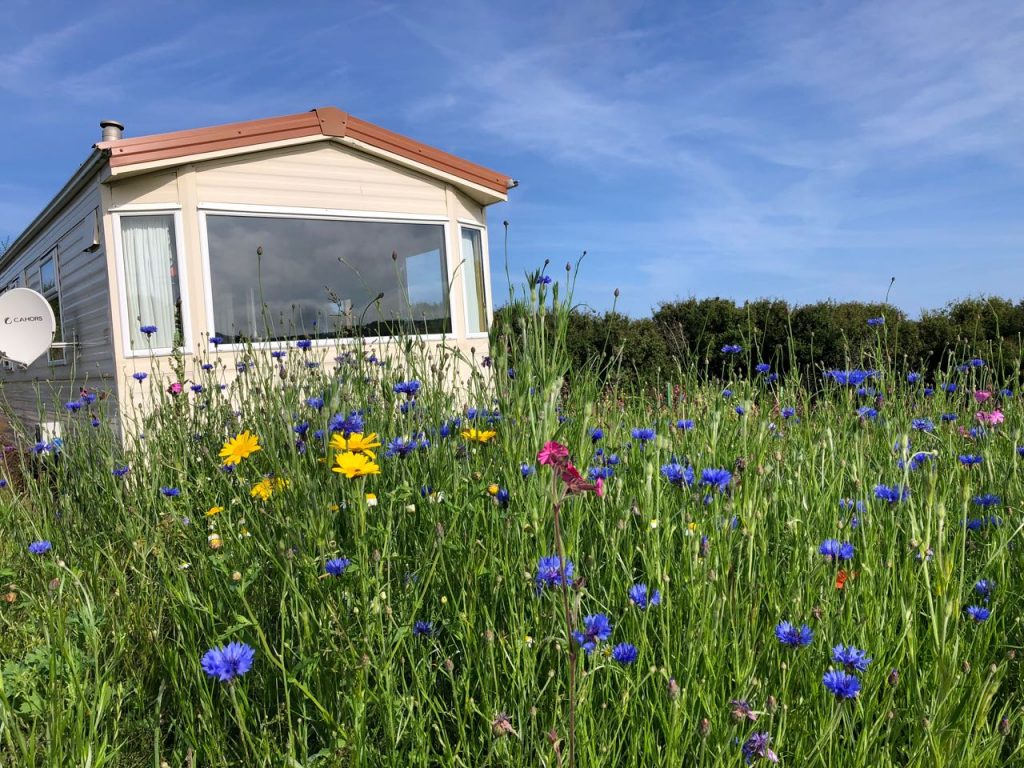 But then June brought a job. A real job. A job with demands, expectations, and even a hint of a reward.
Budgets and solutions.
In March we poured an unfeasible amount of concrete in an attempt to shore up the mine workings of Ross Poldark, and his real life contemporaries. Concrete is expensive, the digger man (Ed) is expensive, the mining surveyor (Giles) is stupidly expensive. It's not Giles's fault, but his business is a large corporate charging large corporate rates, while behaving like a lesser cottage industry that's desperately inefficient.
All that expense drained our build's contingency budget before we even started. All that expense evaporated the fund I had planned to live off. The man who wanted to plant trees needed a job.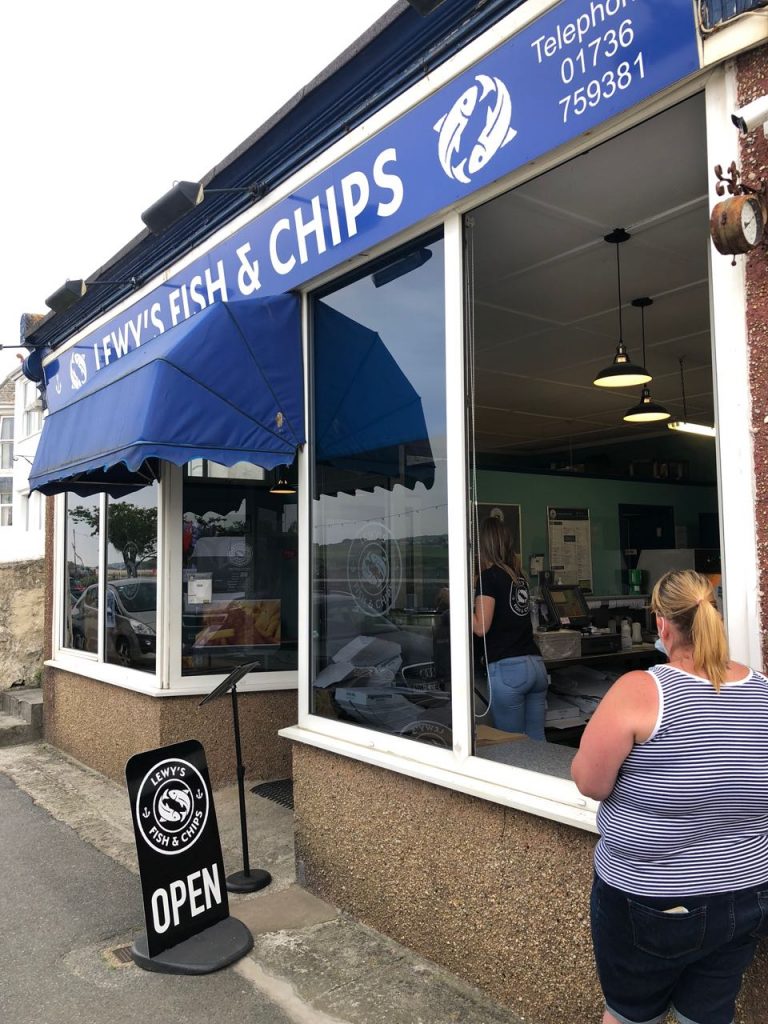 Jobs.
Right now Cornwall has plenty. In fact there's a crisis brewing that has resulted from the lack of people who are willing to work. Restaurants have closed their doors, not through lack of customers, but through lack of staff. Pubs are not allowing folk in to just drink, others are not serving food.
On the flip side the enterprising and super hard working places (such as the excellent No.2 Fore Street in Mousehole) are offering tables as late as 9.30pm to capitalise on the excess of demand.
The jobs may be small, and the wages smaller, but they're jobs.
Taxi for Collins.
Minty took a photo of an ad in the Post Office window. Old school.
"Drivers wanted. Family run taxi business. Call 01736…".
And so it is. A few weeks, and £500 later, I had my taxi license. My license to thrill.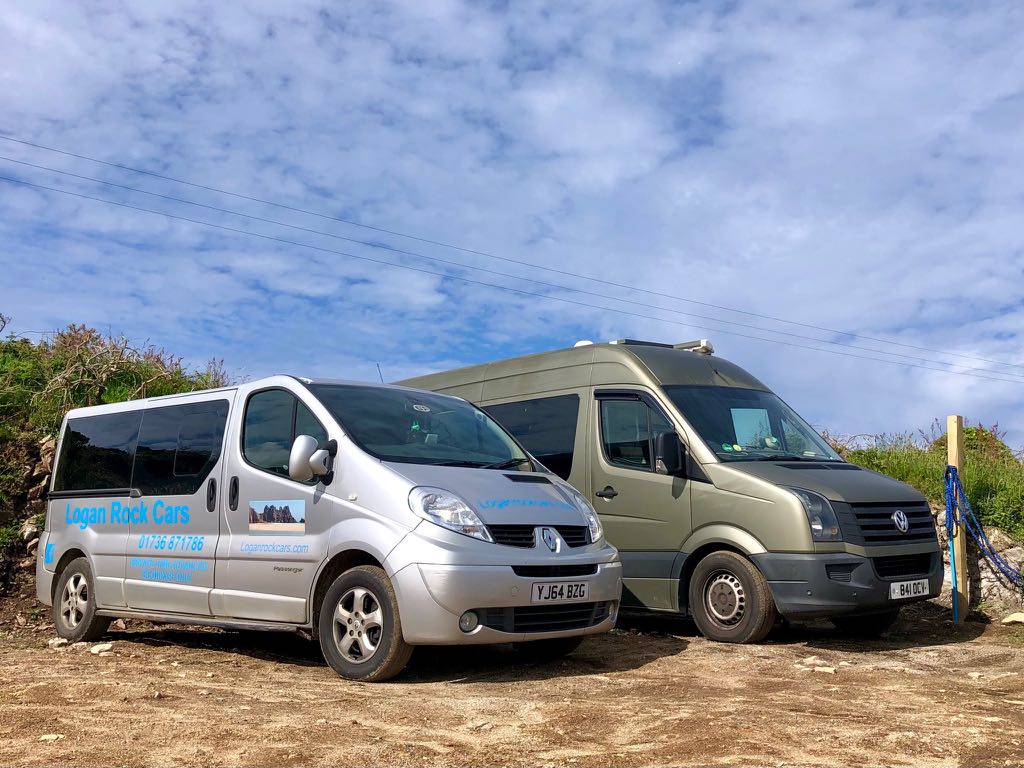 Logan Rock Cars. Two Renault mini-buses, one black cab and more customers than we can handle.
Who would have thought? This job is more fun than any other I've done.
Ten hour shifts fly by in the blink of an eye. Ten hours. That equates to a dozen or so rides, and 180 miles, all in the far far west. Often the hedges brush both sides of the van as we inch down narrow lanes. Frequently we execute a long, long reverse because Tarquin never learned how to make his Q8 go backwards.
I deliver every ride as an advocate for Cornwall, offering more than the passenger can reasonably expect. It's brand KC. I wish the business was mine – I'd do so much more.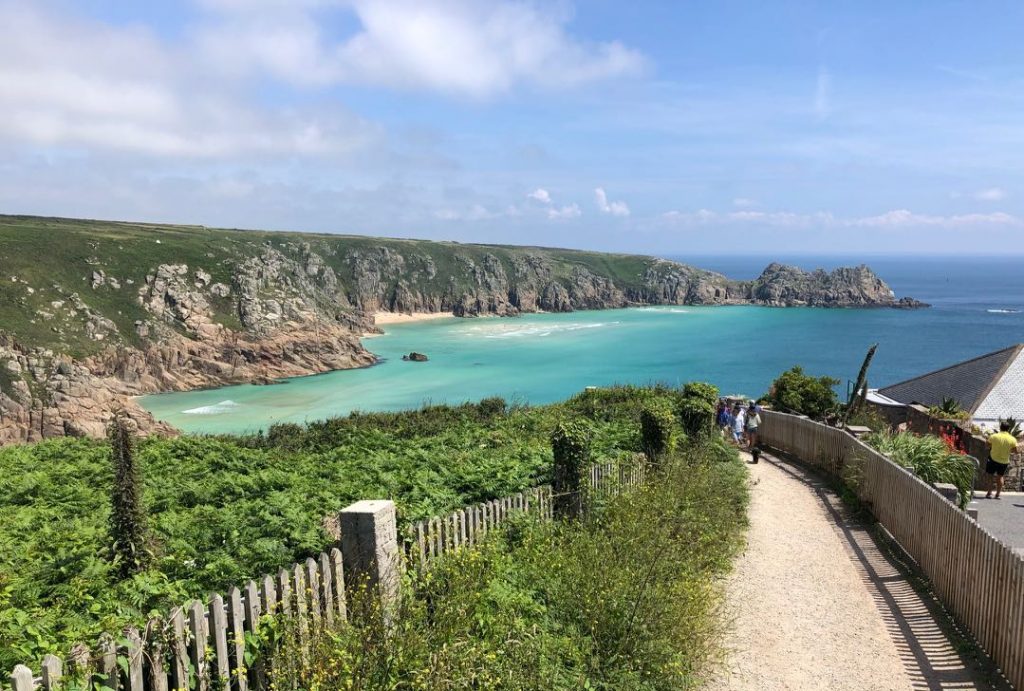 The Cabbie's Guide to the Far West, it's all in my head for now, perhaps winter will bring the chance to get it into type.
Here's a taster.
Land's End.
Land's End has a dreadful reputation. £7 to park and then you're fleeced for every bit of tat it throws at you.
But folks. It's Land's End. There's only one. The built environment is but a speck in an area where the beauty stops me every time I pull up at the hotel.
Out there in the scrub, just beyond the crowds, there are 220 or so different flowering plants, 80 odd different lichens. Thousands of birds, including our own special corvid, the endangered Cornish Chough.
The rock formations are spectacular. The arch of Enys Dodman, Longships, with it's lighthouse, the Bishop's Rock and in the distance, the Scilly Isles.
Walk towards Mayon Cliff above Sennen and you'll see the slowly disintegrating wreck of the SS Mulheim. It's the only wreck on the surface, but there are hundreds below the waves, including that of the oil tanker Torrey Canyon.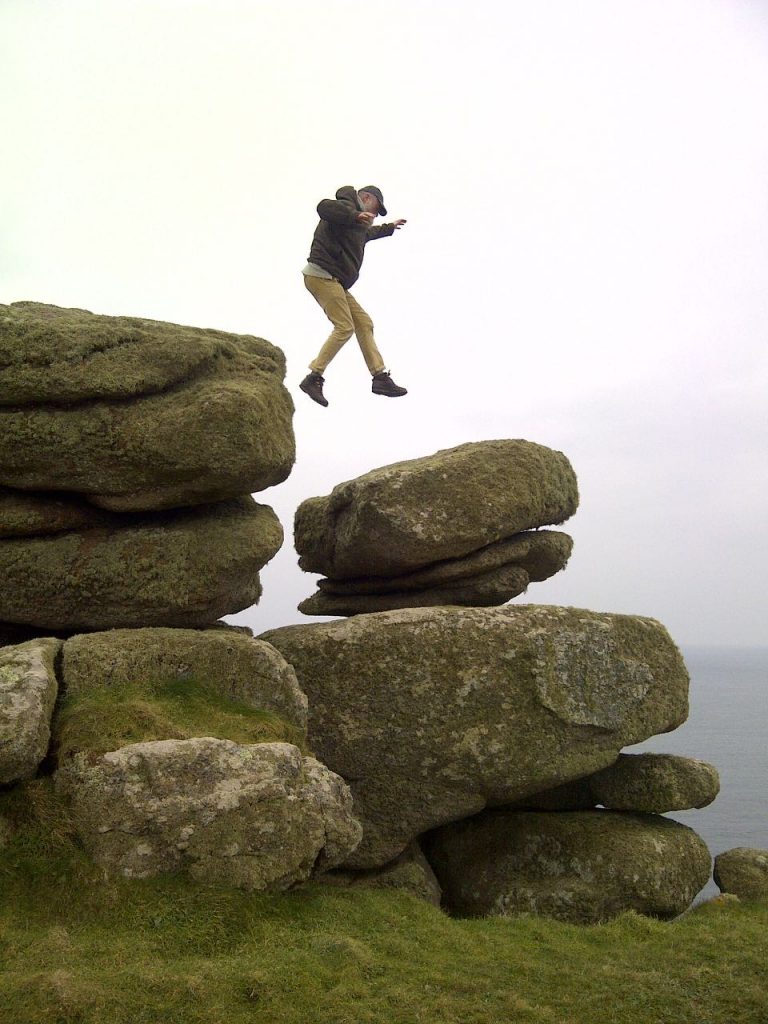 The Torrey Canyon hit Pollard's Rock in March 1967 and began to break up. It was an utter disaster. The devastating oil slick wiped out marine life in Cornwall and right across the Channel to Gurnsey, Jersey and Brittany. The clean up cost thousands more lives as failed attempts were made to burn the oil by bombing the wreckage, then spraying the slick with a toxic BP fluid that caused more damage than simply leaving nature to clean up the mess.
Walk towards Nanjizal for the best cliffs in the far west where boulders balance like giant's playthings, and dolphins, whales and seals are a common sight.
Yes. The buildings of Land's End are tacky. But surely that's not what you're there for?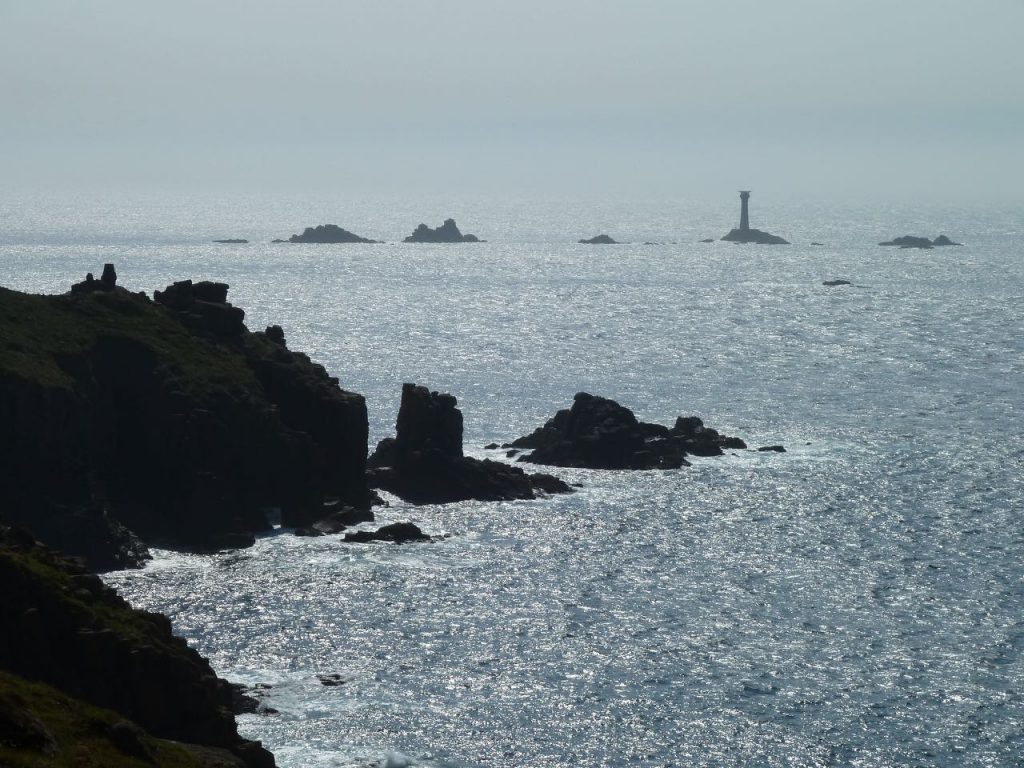 There's always something new.
Where there are people on holiday there's the need for a cab, and in a month this proud fellow of West Cornwall has seen so much he hadn't seen before.
Rospletha. Boskenna. Crean Bottoms. And Brane. The utterly beautiful Alisa Mill. The utterly beautiful Alisa Mill.
The narrow lane to Dowran (say it as Darren, it'll be close enough) via Joppa and Numphra too. Trevilly, Treskilly, Treverven, St Loy. Trendrennan, Trebehor, Skewjack and Brew.
Porthgwarra. You want to go to Porthgwarra? Lanes like that should trigger a danger clause that doubles the fare. Less than two miles from Polgigga it can take half an hour. Forward a bit, back a bit, the queue is mounting behind. I could reverse it for you, but really, it's not that hard.
The fare is not a problem.
I'm amazed and delighted by what people will pay.
Fares that cost more than Min and I might spend on a whole holiday are paid without the bat of an eye.
But rural taxis are not little gold mines like their urban cousins. Our higher fares can't make up for the dead miles between jobs, the dead months between holidays. Despite some great days I have yet to push my average take above minimum wage. Ten hours driving takes its toll, the reward could be better.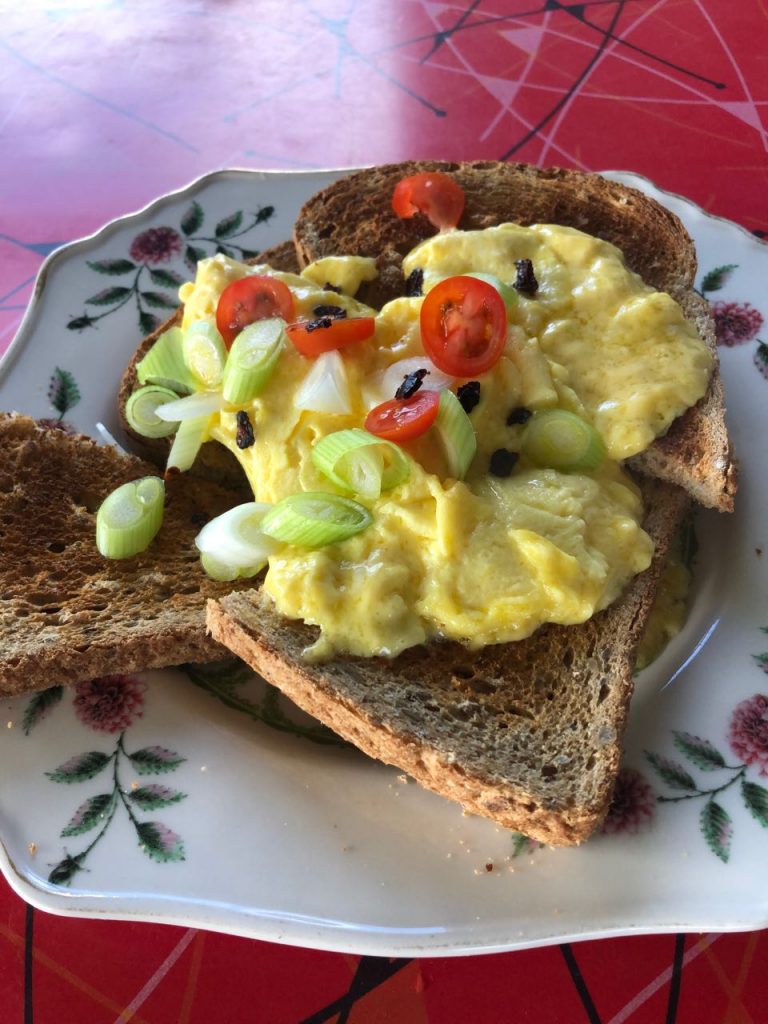 The Noctambulist.
Online dictionaries define noctambulism as sleepwalking, but that seems lazy. Surely it means moving at night, surely sleepwalking is but a form of noctambulism, reserved for the somnambulist.
After years of being in bed early I'm discovering new delights abroad after dark.
The night scent.
Diesel and cow shit, a chicken farm too, the cloying smell of the air fresher (why? why must they exist?) and in Marazion, rotting seaweed on a hot summer's night. Newlyn may be a gentrified version of the Newlyn of old, but never will it scrub itself free of the stench of dead fish.
It's not every night that the scents rise. It takes warmth. And a calm that the far west rarely experiences. But give me both and I'm in for a treat.
Sweet honeysuckle drips from the hedges between Sparrnon and Sheffield (there's a Sheffield in the west too).
Privet's white blossom creates a strange and heady smell, it'll hit you along that same lane before the honeysuckle takes over.
Camomile is generally too delicate to notice without crushing, but one night above Nancledra its sleepy tea association left me drowsy.
The sharp green smell of nettles.
The night sounds.
The hedges come alive at night.
Near the stream below The Flood little owls screech their way through the night, perhaps to hide the screams of their prey.
Sit still long enough and scuttling will resume close by. Rabbits? Rodents? Our weasel? A badger?
We don't have hedgehogs. Yet.
Badger cubs often race the truck as we bounce down the lane at night. The occasional young fox darts across our path.
The night walk.
In June if I made it home by eleven there'd still be light in the sky.
Rods and Cones.
A walk into the darkness is the perfect wind down after ten hours of driving. Gradually my eyes adapt to the gloaming as the rods take over from the cone cells. Rods perceive shape, but in monochrome, and take over an hour to fully adjust. However reasonable night vision comes after just a few minutes. Removing much of the sense of sight sharpens your hearing, you quickly become aware of feedback from your feet.
I walk towards Kenidjack where the light is stronger, reflecting off the sea. The lights of a small town shine out across the water where there is no town. A cruise ship glides by. A deep rumble follows its wake.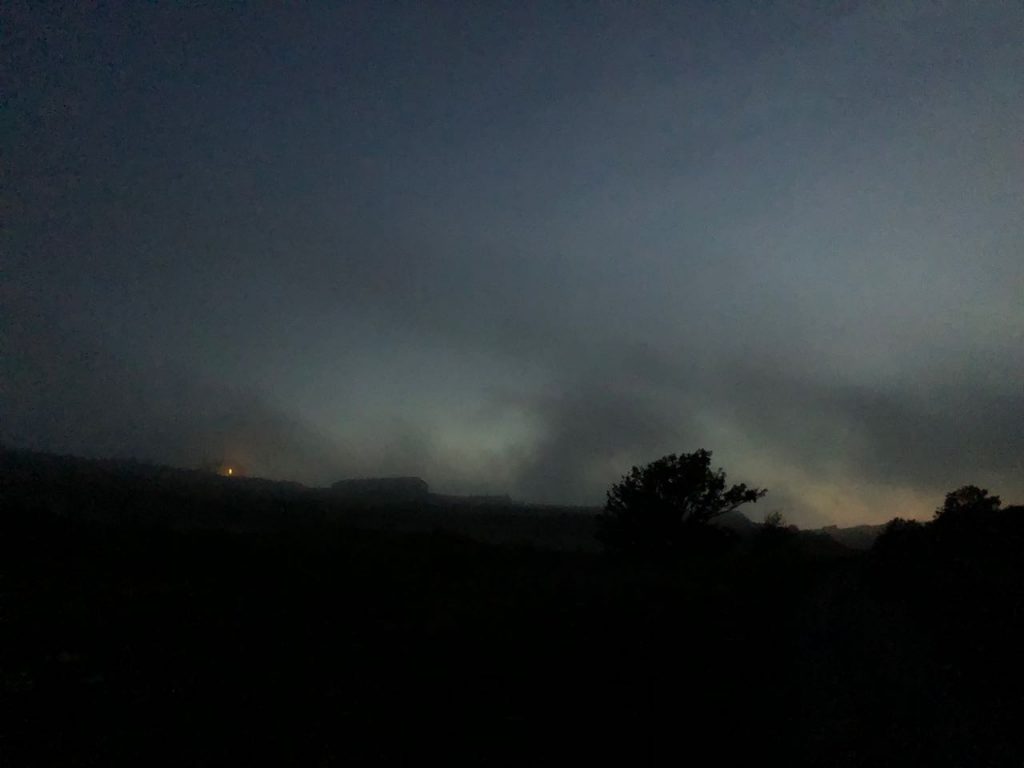 The beauty of a night walk is hard to capture with a phone's camera. Just take my word for it, and don't be tempted by a torch.
Birds.
Unruly young magpies gorge themselves from the feeders before their school starts on the tin roof of the caravan at first light. They squawk their cries as they scrap, pecking at each other, and pecking at my tired fragile mind. How can a bird that weighs less than half a pound make such a racket?
Goldfinches, chaffinches, wrens, robins, tits – blue and great. A pair of choughs swoop by, assessing the bird table, but not pausing, yet.
Further from the caravan, but getting closer, Thor, our raven, brings his lady to feast.
Silent. The kestrel drops on a mouse.
Higher, big buzzard dog-fights a pair of rooks. The smaller rooks win on agility, but once bored of the sport the huge buzzard climbs from the annoyance, seeking thermals at four hundred metres and higher, way beyond the range of the pesky corvids.
An occasional iridescent flash indicates the kingfisher is back at the stream.
I've seen a crow take a rabbit kitten. If only they'd take ours. The cats, a ginger, and a black, come to Goldings to hunt, and we've seen both taking rabbits, but we'd need a chowder to bring the fluffy tailed munching bastards under control.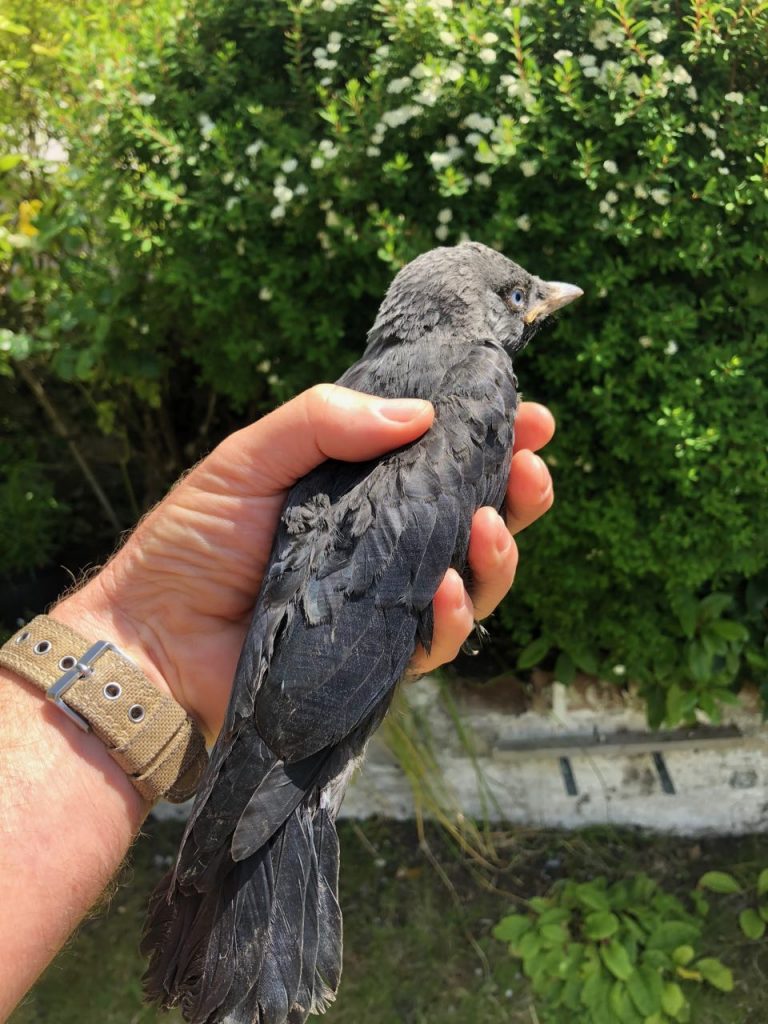 Wandering west. Modern British camping.
It's not all work.
With a bit of planning it's easy enough to take a couple of days off together.
We throw a few things into ArchieVan and venture 50 miles to Treloan, a fabulous campsite just south of Portscatho on the Roseland Peninsula.
The sun beat down for Cornwall's warmest weekend of the year.
The sea is warm. The beach is hot. The English burn in the harsh UV that hits the UK harder than it does through much of southern Europe.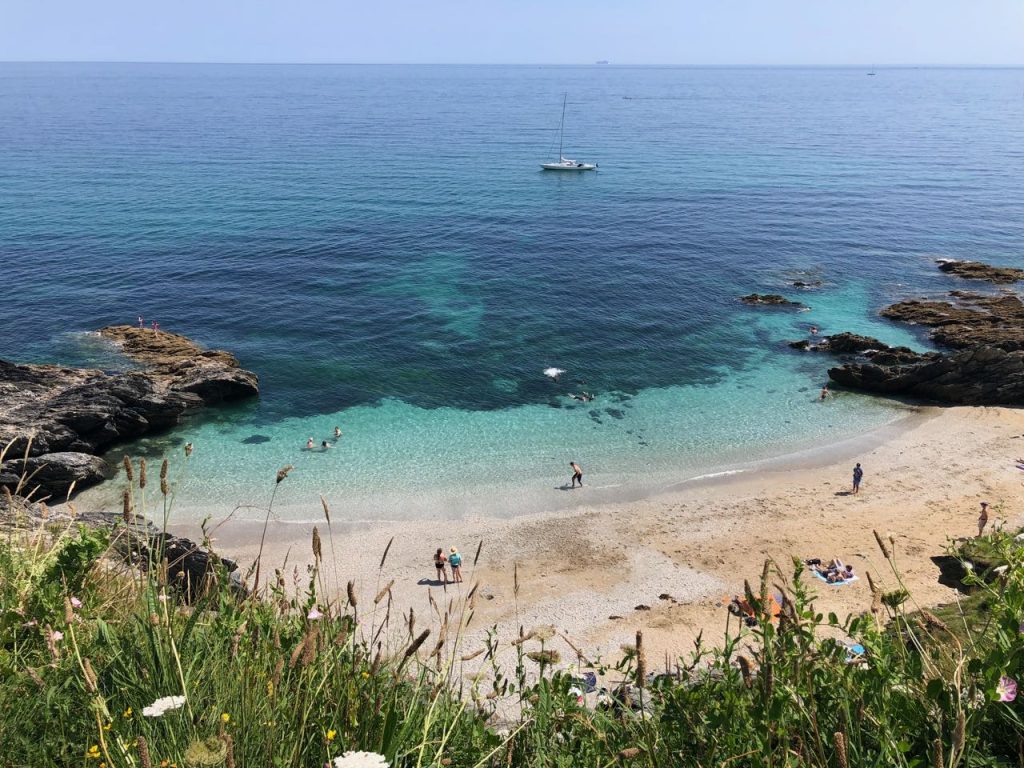 And we have our first experience of modern British camping.
When did tents grow to be bigger than ArchieVan, in fact bigger than our static caravan? When did a caravan cease to be enough and the need arise for an enclosed awning to double its size? When was the rule written insisting that each family erect windbreaks to mark their territory? Let's not even consider why a tent would need an electrical hook up…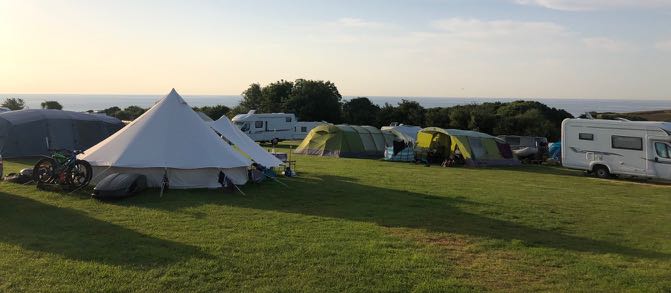 This is the closest most people will get to nature, it's ironic that they do so wrapped in plastic, but what the hell, they're outdoors and that has to be a good thing.
Portscatho has a buzz of visitors, but it's quiet compared to Sennen and Porthcurno. The ridiculously pretty little beaches have room for all, and after two nights sleeping like the dead we're refreshed, and ready to serve.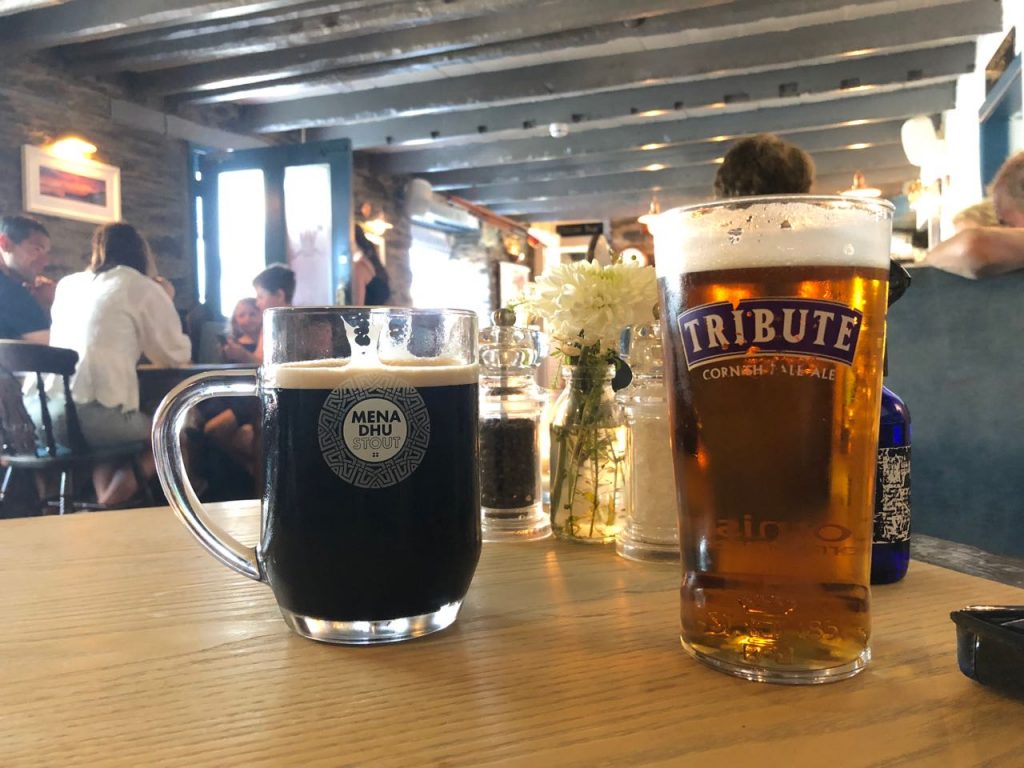 Morning dip.
To ensure your driver is awake and ready for action a morning swim is taken.
Cot Valley, at its little beach at Penanven, is perfect. Already warm.
The sea is cooler than on the south coast, and perfect for the start to a day.